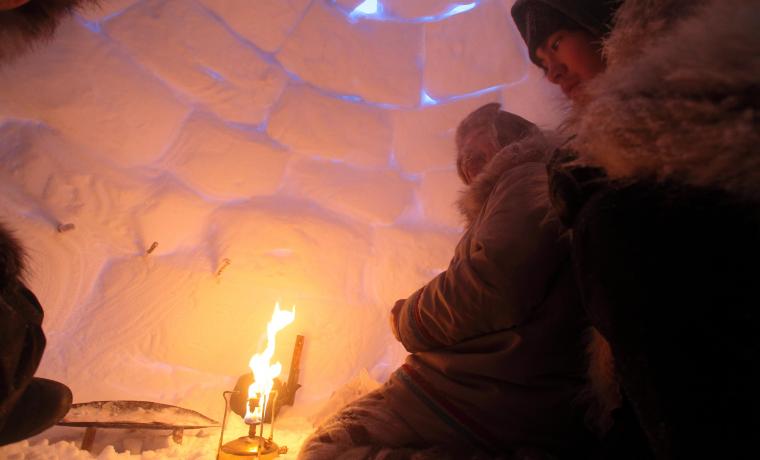 Full-time Staff
I have been practicing in Nunavut since September of 2018. The work is very challenging, but also extremely rewarding. The people are friendly and appreciative of the work we do. There is a wide range of opportunities here in Nunavut, and it is a place where a family doctor can practice the full scope of their training. The physician group is close knit and supportive. For physicians starting out, there are good mentorship opportunities.
To be able to live and work in Nunavut is a tremendous privilege. Growing up in Toronto I had heard very little about the Canadian Arctic and Nunavut. I was lucky enough to participate in an elective during my residency that brought me to Iqaluit in January of 2015 as a pediatric resident. This proved to be a transformative event in my life. My eyes became open to an incredible place that presented such rare and natural beauty, combined with so many unique opportunities to grow as a pediatrician. I met my now wife in Iqaluit, and together we moved there in the summer of 2016. We have since fallen in love with the territory, the land, the people, and the incredible honour we have to serve Nunavummiut in the field of health care. Our day to day lives have become a true adventure that we love to the core.

The day-to-day work is fast paced, challenging and exciting. It's not uncommon to find myself in a medevac plane traveling to a remote community through a sky filled with northern lights. The work demands for a broad skill set in pediatrics. Our tertiary referral centre is 3 hours away by plane. Therefore, the job asks for excellent clinical skills, thinking outside the box, and a vast array of procedural skills. It allows you to draw on all these abilities and foster them in our day to day jobs, which makes for a demanding yet extremely rewarding experience. Outside of clinical work, I have the privilege of working on a wide range of fascinating projects, quality improvement opportunities, teaching and research. As a pediatric division I am proud to say we have been able to grow and expand services that we are able to offer our patients over the last 3 years, keeping patients closer to home, which is extremely gratifying. Nunavut has offered me the opportunity of a lifetime, and we are so grateful to live and work in this awe inspiring place.
Throughout my medical training, I always knew I wanted to be a rural physician. Drawn by the challenges of a truly general practice, I sought out a residency program that would prepare me to 'do it all' in the most remote regions of the country. Following my residency, I spent some time working out West and in the NWT, but I felt drawn to Iqaluit. It didn't take long after arriving here that I could tell this was the place for me. Amidst a backdrop of stunning Arctic mountains, work at the Qikiqtani General Hospital is the most challenging and the most rewarding that I have encountered. I am lucky enough to have maintained a broad scope of practice at the hospital throughout the past 5 years – working in the general clinics, emergency department, obstetrics service, community visits, as well as anesthesia. Through serving the entire Qikiqtani Region of Nunavut, we encounter patients of all ages with all types of illness, truly never knowing what will walk in the door. Local specialist support including general surgery and pediatrics means we have backup where needed, but the long distance by air to our closest tertiary centre means that we sometimes must manage patients for some time prior to transfer. This has helped to maintain and further broaden the skill set I received in my rural residency training.

Life in Iqaluit is like no other place in the country, and I consider myself so fortunate to call it my home. The rich history of the Inuit people permeates the cultural landscape, and I have learned so much during my brief time there about their history, while witnessing and participate in encounters and events pertaining to this living language and culture. Living in a fly-in only community can be difficult at times, but it has taught me to be resourceful and to truly appreciate many conveniences of day-to-day life in Southern Canada that are not readily available in the North. I have been welcomed into a warm and welcoming social group in Iqaluit, and on a given night there are more events going on that I can possibly attend – including everything from hiking, to live music, to midnight bonfires under the northern lights. It is exciting to live in a growing, vibrant, and ever-changing community and it is an absolute privilege to work with what I truly believe is the best patient population in the country. I would highly recommend work in this most unique setting to anyone looking to expand their skill set, challenge themselves, and experience a new adventure.
Having been born and raised in an urban centre, during medical school, I always thought I would end up practicing in some inner-city context until I arrived in Iqaluit one fateful, frigid November afternoon in 2014, overstuffed suitcases in tow. There is something unshakably enchanting about the crunch of snow beneath one's boot echoing through the stillness of an Arctic winter. I moved to Baffin as soon as I finished my residency training in 2015, and it was the single best personal and professional decision I have ever made. I am honoured and humbled to be able to work in such a magnificent place for and among such a generous, resilient people. I have welcomed new life into the world, and have borne witness to final breaths. I have been on both sides of the OR curtain as the anesthetist and as the surgical assist. I have celebrated joy and mourned tragedy under the midnight sun and in the never-ending night. Doubtless there are challenges to living in an austere environment, but the rewards are immeasurable.
Locums
My family and I moved to Iqaluit in August, 2017. I spent a year working as a full-time consulting general paediatrician at the Qikiqtani General Hospital doing a mix of inpatient and outpatient paediatric care. It was a tremendous clinical experience characterized by a real breadth of practice. The family physicians and nurses were a professional and collegial group and they were quick to include me and my family in their 'northern life'. In the end, however, it was the people of Nunavut that made my time there so rich. Despite my return to full-time practice in northern Ontario in July, 2018, I have been pleased to provide ongoing locum coverage to QGH and the Qikiqtaaluk Region.
I have greatly enjoyed my locum experiences in Iqaluit and a smaller remote community in Hudson's Bay. The medicine is interesting and you are well supported by a collegial team of nurses as well as your colleagues. There are also good mental health and social services available for the population. This is a wonderful opportunity to practice within a different culture and landscape. The patients are grateful for your help and your services do make a difference to the health of the community.
Locuming in Nunavut is always an incredibly rewarding experience. The diversity of work is breathtaking. From hospitalist service in Iqaluit to fly-in community visits around the territory - every day, each clinic is different, and challenging in its own way. I felt well-supported by the pediatricians, FM-OBs, and the surgeon in Iqaluit. I learned much from the wonderful nurses in the community health centers. When locuming in Nunavut - I suggest trying out country food (such as a seal burger!), and consider buying a sculpture from one of the local artists. They are sublime.
My wife, Dr. Josie Wilson, and I did support locums [...] over a time span of about 10 years. [...] In our original arrival we literally came off the boat with suitcases that had wheels of less diameter than most of the rocks on the beaches. I would head to the emergency room. Josie would go to the obstetrics area. The initial experience was of a small group who had to be extremely innovative to cover all services. You were expected to multitask and learn much from each other [...] The sense of caring in those that arrive to help is obvious to me - it remains and it's fun to be part of it.

Community hamlet centers have their iconic presence and are remarkable in their history and the dedicated and quality of nursing staff. We as doctors should envy their attitude energy and kindness. [...] Sensitivity to culture and problem definition are common strategies of primary care but they're not always obvious and if they're missed, you often have a little chance to be effective – quite a challenge. Kindness and innovation are not only necessary, but rewarded if given.

You would predict from your knowledge of different disease prevalence levels in contrast to our southern experience, they are certainly there[.] [T]uberculosis infectious disease issues –acknowledged and understood problems. Sadly also [there] are the challenges related to suicide and general mental health concerns. These appear to be recognized much more effectively recently in many ways that include community participation and concern. As a practicing physician, this is a very satisfying story. All ideas that eventually work have to have local Nunavut input. [...] There certainly are intriguing challenges brought to the delivery of care: coordinating services, proper use of resources to investigate, as well as sensible use of lab and diagnostic imaging. The rational use of Medivac services [is also] certainly on the list.

Josie and I hopefully worked as trusted and respected physicians in Calgary for decades [...] satisfying for sure [but] the experience in Nunavut [is] very different, amazing, [and] satisfying often beyond anything you anticipated. You won't regret a slice of your life spent with these people. Get to it.
Learners: Residents and Medical Students
Working as a learner in Nunavut is an incredibly rewarding experience. Because of the spectrum of care provided by family physicians you are guaranteed to see a great variety of people seeking help. It's not uncommon to assess someone in the emergency room, care for them on the wards, and then see them in clinic for follow up. The transport medicine aspect is also very interesting – QGH communicates with Health Centers across the territory to transfer sick patients and seeing them come off a med-evac into hospital care is applicable to lots of other settings. You get many opportunities for hands on learning and skills in the emergency department and on the hospitalist service. We're also lucky enough to work with a variety of highly skilled and motivated allied health care professions like nurses, physiotherapists, RTs, along with the imaging techs. Specialists from Ottawa also rotate through for clinics a few times a year. Iqaluit has a vibrant arts and culture scene and is a welcoming place to live and work. Doing an elective at QGH is a great way to learn more about medicine in the North and appreciate the complexities of health care delivery in remote and Inuit communities. Would highly recommend it to anyone interested in rural medicine!
The experience of training during my Family Medicine Residency in Nunavut was a really unique and interesting learning opportunity. It allowed me to practice full scope Family Medicine in a supportive learning environment with friendly and skilled preceptors. I was exposed to really fascinating medicine, all while living in and learning about a diverse and vibrant part of Canada. Travelling to small communities outside of Iqaluit taught me how to provide comprehensive medical care in resource-limited settings. Medicine in the North, including the inherent sense of community, is a one-of-a-kind opportunity that must be experienced to truly understand.
Working in Iqaluit provides me with a unique opportunity as a family physician to practice a wide range of skills, from handling emergency calls from remote nursing stations to working clinics to assisting in the OR. It also allowed me to discover Canada's north, with its culture and wide range of outdoor activities available.